I guess lack of cable in the 1980's and 90's mean I am not exactly the MTV (X) generation. Majority of my toys were hand me downs, Christmas and birthday were the only times one got a brand new toy, I remember fighting over the Sears and JcPenny Catalog to make lists of those toys. I have to admit I didn't have a real interest in my early years with barbie, at the time I was still playing with fisher price little people and GI Joe 3 3/4 action figures. Then I got the Glamour girl mall and the 4" Glamour Dolls or as we saw it girlfriends for the Joes, from Kerr Drug Store. The majority of our toys came from Kerr Drugs, Roses and the Family Dollar, for those young folks Family Dollar was the Big Lots of the 80's, outdated toys went there and sometimes Kerr Drugs. Basically allot of my toys came from Family Dollar, hand me downs and yard sales. The two new expensive dolls we got were from Sears Craig and myself Lindsey when I was around 5. I also remember saving up money to purchase a set of dishes for my tree house from the JcPenny catlog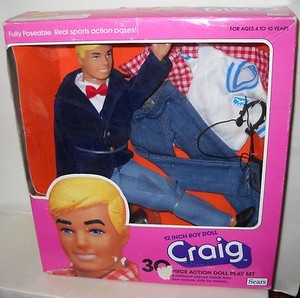 That would be the only two "new dolls" we would get, the next doll I got was at 8 when I found barbie for $.10 at a yard sale in her red heart dress around 1986 about 3 years after she came out
Still no real interest until one summer I was roaming the toy department in Brendals one of only a few stores in my small town when I came to an abrupt stop at some blue boxes. My eyes got big as sacucers and I was proably drooling it was the Heart Family.
Barbie collecting was the only girly thing I was still interested in by the young age of 11, at 6 dresses went out the window and my baby dolls sat lonely in the crib in my tree house. I did still take dance but sports was more my speed, barbie and cooking where the two girly things my mom and I shared. In reality she actually purchased more dolls then I are taste were different at that time.
I wanted everything on the pamphlet that came in the box, the house, the car and furniture, sadly I never did get that from Santa. I did however get the HO train set I asked for, along with the my little pony with carriage, and a Red wagon. My sister go a 13" tv and an Atari that Christmas as well, and that would be all we got, which would come to a shock for kids these days.
Using the inflation calculator our parents spent alot of money for the few gifts we got, but we were grateful for what we got it, unlike most kids today.
The A frame house was another item I wanted but it had been long out of production, then I wanted the 4 ft Dream House with the elevator that Jenny and Avy got one Christmas, along with the boutique shop Rene got, then there was the Rockers and there van and Jem. Sadly it wouldn't be until decades later I would attain some of the items.
Googling one day to find things to do when I traveled multiple times a month to the Cancer Hospital I stumbled upon a Vintage Brick and Mortar Barbie Store in 2011. My sister and I stopped by I walked in there was the biggest Barbie RV ever, it wasn't the Rockers Tour Bus it was the original yellow Star Traveller. Naturally being my birthday was coming up my sister paid the $50 for the bus, it was more than that until the shop owner learned I was a cancer patient. His partner had just finished chemo himself so I got a discount. I also picked up two gallon bags of clothes from the bins. They also had the A Frame house for $100, it was the Pink one for Christmas. That summer I also hit the mother-load at the flea market picking up lots of vintage furniture, a few vehicles, and various dolls.
This past month I was finally able to find the 1st A frame House that I longed for along with the Cottage, so I have 2 A frames, a cottage and the Heart Family home. I plan on turning the Heart Family Home into a two story Store/Mini Mall.